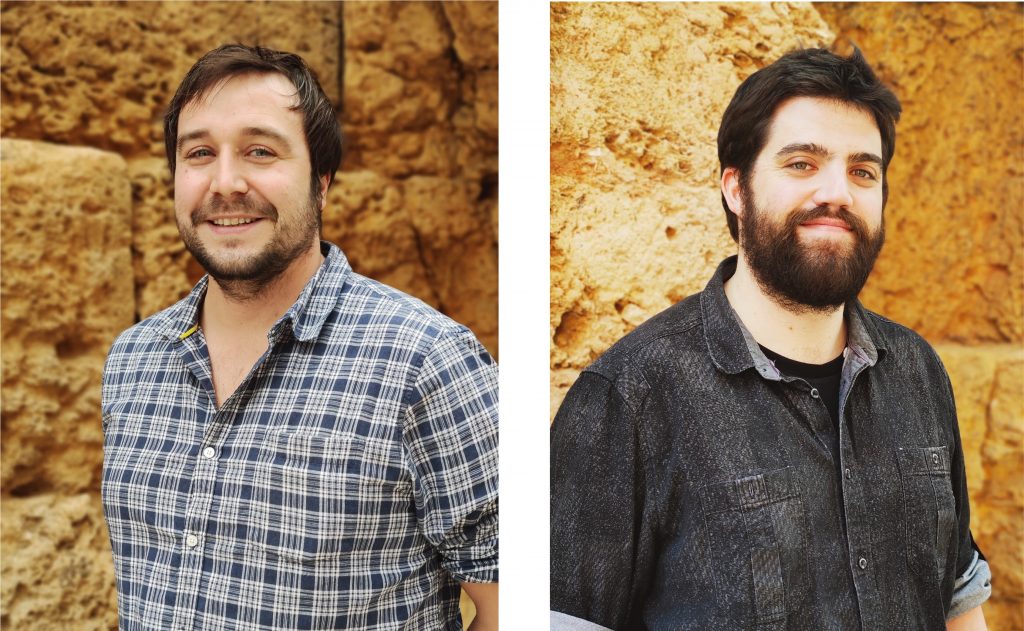 In the picture: Francesc C. Conesa (left) and Alfredo Mayoral (right).
Great news for our remote sensing and geoarchaeology lines of research! We celebrate that Francesc C. Conesa and Alfredo Mayoral have recently been awarded a Beatriu de Pinós (MSCA Cofund-Generalitat de Catalunya) and a Juan de la Cierva-Incorporación (Ministerio de Ciencia e Innovación) postdoctoral grants respectively. We are thrilled to count with their expertise for 3 more years!
Beatriu de Pinós (MSCA Cofund-Generalitat de Catalunya), 2022-25


Francesc C. Conesa

Francesc will focus on the natural and anthropic relationships that define Cultural Landscapes, with a particular emphasis on revealing present-day threats, and geohazards that put at risk the visibility and preservation of archaeological sites.

During the next years at GIAP, he will combine distinct but complementary multi-source and multi-temporal remote imagery from satellites, nano-satellites and drones to detect new archaeological sites at large scales and analyse endangered archaeological locations in the Mediterranean and South Asia. He will also spend some months working with Dr. Francesca Cigna at the Institute of Atmospheric Sciences and Climate in Rome (ISAC-CNR), where he will be trained in advanced SAR (Synthetic Aperture Radar) techniques. SAR interferometry, for example, use multi-temporal radar images to measure millimetric-scale deformations over spans of days to years, and therefore it is applied to identify patterns of erosion and structural stability… as well as archaeological looting and pillage.

Francesc and the GIAP team will work together to release a web-mapping platform to facilitate the handling and visualisation of cloud-stored satellite imagery to users with little or none remote sensing expertise; a perfect and much needed tool to shorten the distances between remote sensing archaeologist and heritage practitioners!
Background
Francesc has a broad experience in applying and promoting remote sensing and multi-proxy geoarchaeological approaches applied to landscape archaeology. His research focuses on developing new multisource remote sensing procedures, coupled with machine learning methods that can help and eventually improve the detection, identification, mapping and quantification of archaeological sites.
He has worked intensively in South Asian archaeological contexts, where he continues to work in the monsoonal plains of north-western India and the drylands of eastern Pakistan. He is currently the co-PI of the Palarq Foundation-funded Kachchh Archaeological Project: trade, pastoralism and the origins of the Indus Civilisation, in collaboration with the Department of Archaeology, University of Kerala(2020-2023). In that regard, he finished a Marie Sklodowska-Curie Individual Fellowship at the McDonald Institute for Archaeological Research, University of Cambridge (2018-2020), which resulted in the detection of hundreds of new archaeological locations related to the Indus Civilisation. He also works in the in the steppes of Mongolia in a multidisciplinary project which aims at unraveling new insights into Bronze Age nomadic pastoralism.

Listen to Francesc talk about the origins of the Indus Civilisation in the presentation of the Kachchh project (in Spanish, with English subs):
In the Mediterranean region, Francesc currently works as a team member of the BBVA-funded project DIASur (ICAC): Prospección arqueológica inteligente sobre plataforma dron; he is also a member of the I+D Retos ARCHREMOTELANDS (University of Barcelona): Arqueología, Teledetección y Arqueometría: una aproximación multidisciplinar al paisaje y las cerámicas desde el período romano al medieval en Mallorca (Islas Baleares). Finally, he also recently obtained funding for the VIGILANT project (Dirección General de Patrimonio Cultural, Gobierno de Canarias), which aims to shed new light on the historical network of signalling fire beacons in the island of Tenerife.
Juan de la Cierva-Incorporación (Ministerio de Ciencia e Innovación), 2022-25


Alfredo Mayoral

Alfredo's current research interests concerns geomorphology, geoarchaeology, and multi-proxy palaeoenvironmental studies. This includes Late-Holocene landscape evolution and socio-environmental interaction, environmental impacts of (proto-) urbanization processes, and their links to the onset of the Anthropocene. His recent research in central France has proven that significant anthropogenic impact on soil erosion and wetlands started much earlier than previously thought at the beginning of the Iron Age.


Alfredos' current objectives are to expand these topics to new Mediterranean study areas such as Spain or Greece (where he is already participating in projects directed by Dr Hector A. Orengo, see below), and to consolidate his re-integration into the Spanish research system after years abroad.
Background
In his 6 years in a multidisciplinary research team in GEOLAB (UMR 6042 CNRS-Université Clemont Auvergne), Alfredo has become an expert in landscape geoarchaeology, developing an uncommon approach and strong multi-proxy skills in sedimentology, geochemistry and soil micromorphology. Having carried out his studies and academic career largely abroad, he has developed an international profile. As a result of these activities, he has developed a robust research network in France, Greece and Spain which is gradually expanding to other European countries.
Learn more about his research in France in his recent talk for Musée de Gergovie (16/09/21), in which Alfredo presents the results of these latest geoarchaeological and paleoenvironmental work on the the Gallic Oppidum of Gergovie, as well as the scientific expectations for the years to come (in French):
His work in Greece involves developing and implementing a geoarchaeological approach for the Translands (PGC2018-093734-B-I00) and TransMed projects (H2020-MSCA-IF-2018 n.839650). Its main objectives are the palaeogeographical reconstruction of the coastal landscapes around the colony and their evolution, and obtaining sedimentary sequences suitable for high-resolution palaeoenvironmental analysis. Alfredo's geoarchaeological analysis and forthcoming multiproxy palaeoenvironmental studies in selected sedimentary cores will help refine this palaeogeographical picture and provide a comprehensive perspective of long-term socio-environmental interaction and landscape evolution around the Greek colony of Abdera.
---