We're planning the 2022 series… more information soon, stay tuned!

Th GIAP Research Seminar Series are managed by GIAP's predoctoral researchers. They are a reflection of their current research interests and aim to provide examples of leading research that open up new horizons in landscape, computational and palaeoenvironmental archaeology, and bioarchaeology.
The seminars are oriented to povide glimpses of original current or ongoing research across the world presented by prominent researchers directly involved in their development, independtly of their career stage or academic position.
GIAP's Seminars, currently in the form of webinars, are taking place roughly every three weeks and are open to the public.
2021 series: Recent advances in the study of the ancient Mediterranean
24/02-09/06/21
Programme: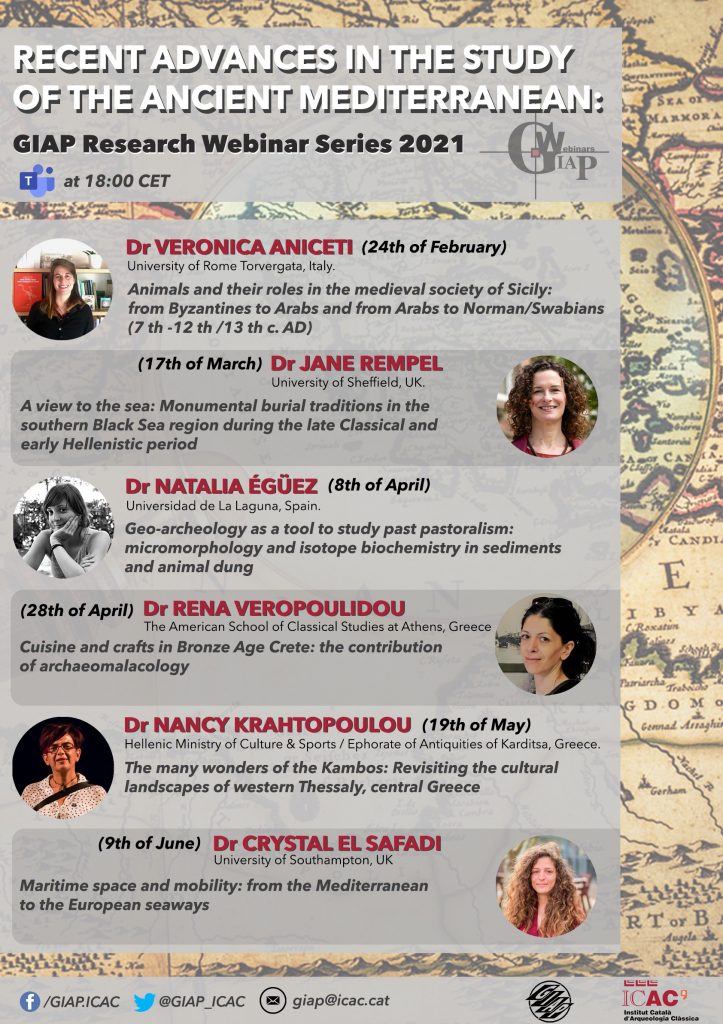 24/02/21, 18:00 CET
Dr Veronica Aniceti
Postdoctoral researcher in zooarchaeology, University of Rome Torvergata, Italy
Animals and their roles in the medieval society of Sicily: from Byzantines to Arabs and from Arabs to Norman/Swabians (7th-12th/13th c. AD)
---
17/03/21, 18:00 CET
Dr Jane Rempel
Department of Arhcaeology, University of Sheffield
A view to the sea: Monumental burial traditions in the southern Black Sea region during the late Classical and early Helenistic period.
---
08/04/21, 18:00 CET
Dr Natalia Égüez
Universidad de la Laguna
Geo-archaeology as a tool to study past pastoralism: micromorphology and isotope biochemistry in sediments and animal dung
---
28/04/21, 18:00 CET
Dr Rena Veropoulidou
The American School of Classical Studies at Athens (ASCSA)
Cuisine and crafts in Bronze Age Crete: the contribution of archaeomalacology
---
19/05/21, 18:00 CET
Dr Nancy Krahtopoulou
Ephorate of Antiquities of Karditsa, Hellenic Ministry of Culture & Sports
The many wonders of the Kambos: Revisiting the cultural landscapes of western Thessaly, central Greece
---
09/06/21, 18:00 CET
Dr Crystal El Safadi
University of Southampton
Maritime space and mobility: from the Mediterranean to the European seaways