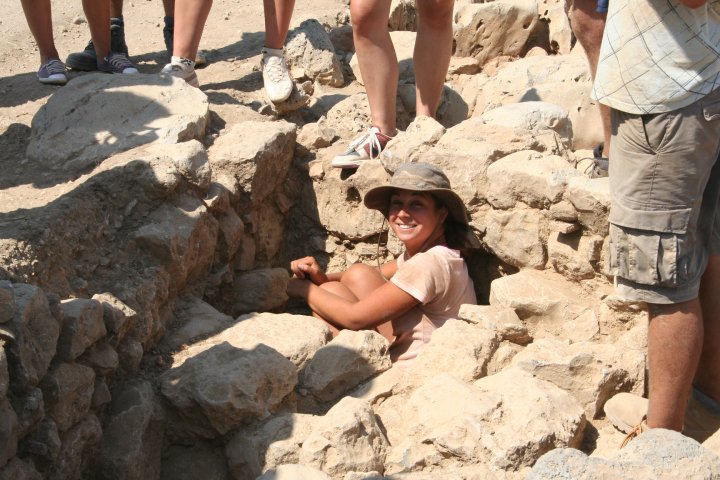 During this month, we were happy to receive the visit of an old friend from the United States. Katie Tardio, who works on her PhD thesis at the Departament of Classics de la University of North Carolina at Chapel Hill, EE. UU., stayed with Lídia Colominas (GIAP-ICAC) this October to analyse unfinished samples after the pandemic halt. We had the chance to ask her some questions about her experience:
What have you been working on?
"This month in Tarragona, I was finishing up the data collection for my PhD project. Specifically, I'm analyzing fauna from the Roman villa of Els Munts (Altafulla), as well as collecting dig reports from the Serveis Territorials de la Generalitat de Catalunya in Tarragona."
This is not your first visit to ICAC. What did you do last time you visited us?
"Before this stay at the ICAC, I was at the ICAC for almost 2 years (2018-2019) working on my PhD dissertation: 'Feeding Tarraco: A Zooarchaeological Approach to the Economy of Roman Spain'. During that time, I was analyzing animal bones from three Roman villas (Els Masos in Cambrils; La Burguera in Salou; Els Munts in Atlafulla) and six assemblages from the city of Roman Tarraco. In my project I connect livestock production, distribution, and consumption to socio-economic relationships and dynamics of all classes of people in Republican and Imperial Tarraco. It's a micro-regional study to understand the role of animals in economic networks of distribution, as well as food availability and preference in this Roman provincial capital."
Returning this month felt like returning to a second home
What have you enjoyed most about working in ICAC and Tarragona?
"The thing I have enjoyed most about working at the ICAC is the people. I have met so many amazing scholars and friends during my time here. Everyone was so welcoming and helpful when I first arrived and those relationships have only gotten stronger. When Covid prevented me from returning for over a year, Lídia Colominas did all she could for me from afar, as did several of my fellow graduate student (pre-doc) friends. Returning this month felt like returning to a second home. Tarragona itself is also just an amazing place to live and work. It is a beautiful living museum next to the sea with amazing food and the opportunity for countless adventures – there is no other place I would have rather been for my PhD work. I have made lifelong (I hope!) friends and colleagues during my years here."
The dreaded question… any plans after your thesis defense?
"After my PhD defense I want to continue working on the food and economy of provincial Rome using zooarchaeology. I hope to get a professorship in the US or a post-doc in Europe, maybe at the ICAC or elsewhere in Spain."
---
We wish you all the best in your endeavours, Katie!