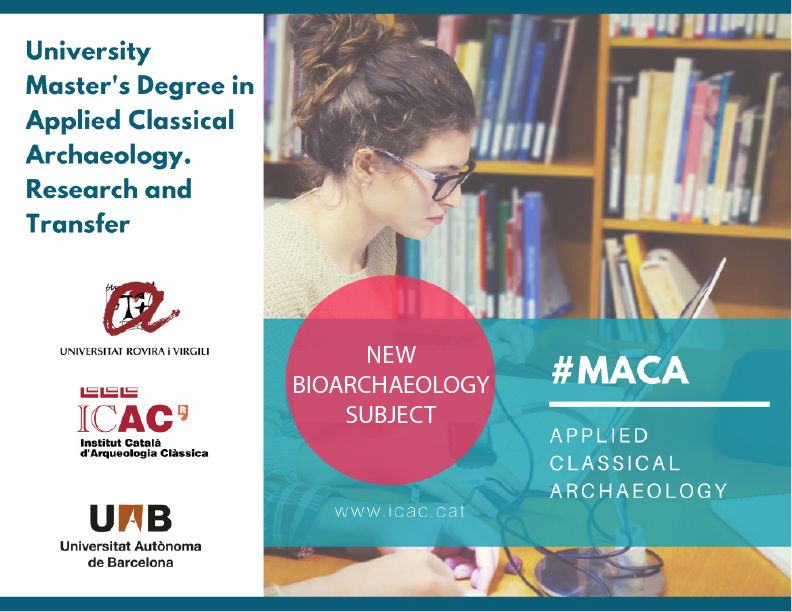 For the first time, bioarchaeology has a dedicated subject a Master's degree in the Universitat Rovira i Virgili (URV). The subject, which started this week, is led by Lídia Colominas and Alexandra Livarda, both Ramón y Cajal researchers at GIAP (ICAC).
The subject is included in the new Master's degree "Applied Classical Archaeology. Research and Transfer (MACA)", organised by the Catalan Institute of Classical Archaeology (ICAC) and the Autonomous University of Barcelona (UAB), that started this year with great success.
Archaeometry applied to bioarchaeological remains (Arqueometria aplicada a restes bioarqueològiques)
Lídia Colominas and Alexandra Livarda

This module aims to provide students with a foundation in the theory and practice of archaeobotany and archaeozoology. It will cover a range of issues regarding the analysis and interpretation of macrobotanical and faunal remains in archaeology. It will also provide students with basic skills for the identification and handling of modern and archaeological plant and animal remains during three hands-on practical sessions. Students will learn about how archaeologists reconstruct people, plant and animal relations in the past and how these inform on past economy, social relations, identities, beliefs and other aspects of life. Full engagement with the module will equip students with a range of practical skills in bioarchaeology and an important theoretical basis that will open new windows into past societies and their worldviews.

– Lecture 1: In this session you will be introduced to the aims and objectives of the module. The lecture will discuss the variety of plant and animal remains that can be studied archaeologically, issues of taphonomy, sampling and recovery and how these affect archaeobotanical and archaeozoological assemblages and our ability to use the information derived from them.
– Lecture 2: Plant cultivation, animal management and eventually domestication had a paramount impact on everyday life that ultimately transformed past societies. This session will focus on how these events occurred, how can they be identified archaeologically and how husbandry regimes might be inferred.
– Lecture 3: This lecture will consider how archaeobotanical and archaeozoological data can be interpreted as evidence of consumption. We will investigate which plants and animals were eaten, by whom and how. We will explore how does food provides insights into past economy and diet.
– Lecture 4: plants and animals beyond diet: in this lecture we will explore, through a series of case studies, how archaeobotanical and archaeozoological remains open new windows into past societies and can be used as proxies to explore important archaeological questions.
– Seminars 1 and 2: the seminars will explore new approaches and methodologies in bioarchaeology to acquaint the students with cutting-edge research.
– Laboratories: these sessions will provide students with all the basic skills for the handling and identification of major plant and animal taxa, which provide the raw material for the archaeological interpretations.
Learn more about the MACA Master's degree: