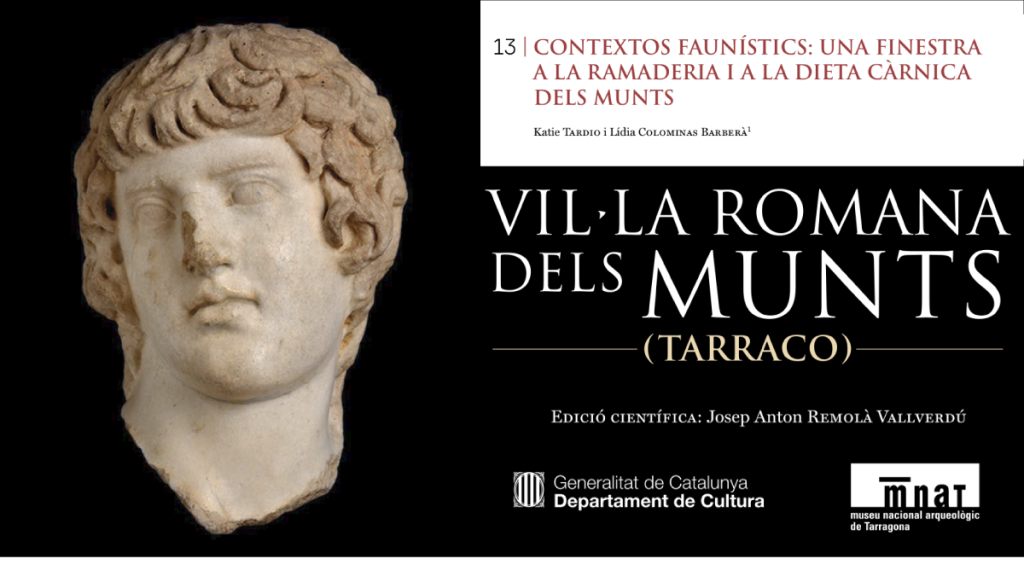 We have a new chapter (in Catalan) published in the volume Vil·la Romana dels Munts (Tarraco).
Lídia Colominas and Katie Tardio (UNC-Chapel Hill) present the preliminary results of the archaeozoological study of the faunal remains recovered in Els Munts, a Roman villa located 14 kilometers from Tarraco. So far, more than 800 faunal remains that can be dated between the 3rd and 5th centuries AD, are presented in this chapter.
These first archaeozoological data from Els Munts provide valuable information about this well-known coastal site; as they provide information on the economy of the villa, focusing on aspects such as the animal management and exploitation that was carried out, and also on the food preferences of its inhabitants.
Tardio, K.; Colominas, L. 2022. Contextos faunístics: una finestra a la ramaderia i a la dieta càrnica dels Munts. In J-A. Remolà (Ed.), Vil·la Romana dels Munts (Tarraco). Generalitat de Catalunya, Museu nacional arqueològic de Tarragona. pp. 561-568. ISBN 978-84-19326-74-4
Original introduction (Catalan):
Lídia Colominas i Katie Tardio (UNC-Chapel Hill) presenten els resultats preliminars de l'estudi que s'està duent a terme de les restes de fauna que es van recuperar a la vil·la romana dels Munts, una edificació situada a 14 quilòmetres de Tàrraco. Fins ara s'han analitzat més de 800 restes que es poden datar entre els segles iii i v, que són les que es presenten en el capítol.
Aquestes primeres dades arqueozoològiques dels Munts permetran aportar informació molt valuosa sobre aquesta coneguda finca costanera; proporcionaran informació sobre l'economia de la vil·la, incidint en aspectes com la gestió i l'explotació que es va dur a terme dels animals i les preferències alimentàries dels seus habitants.