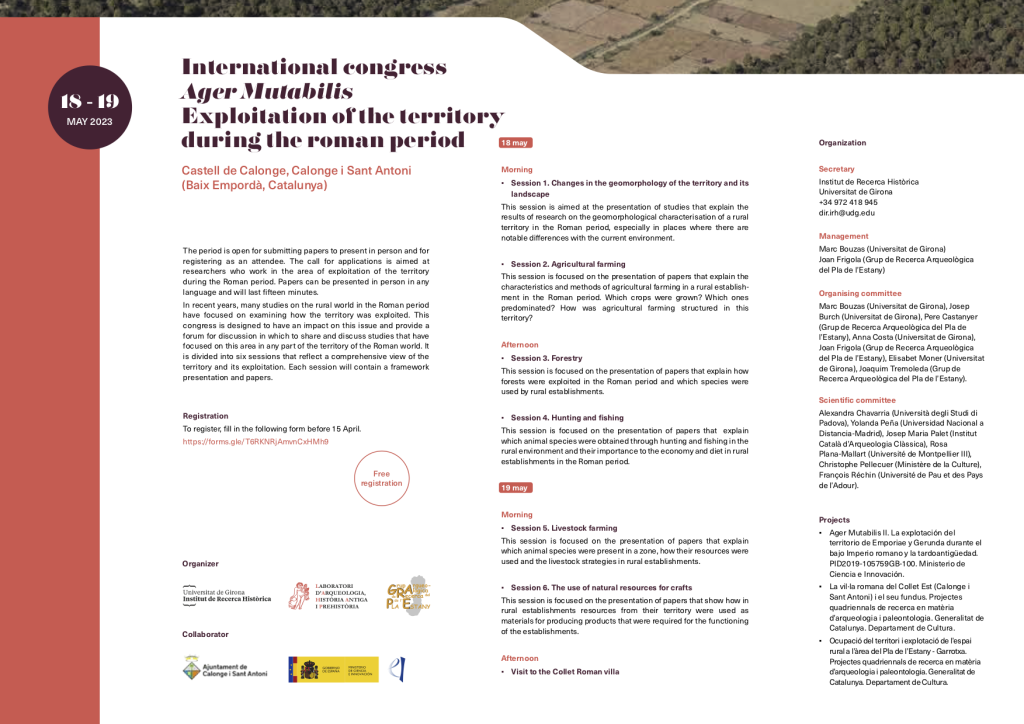 Today, the archaeozoology team is presenting in the international conference "Ager Mutabilis: Exploitation of the Territory During the Roman Period", which is taking place in Castell de Calonge, Calonge i Sant Antoni (Baix Empordà, Catalunya) on May 18-19th.
Abstracts in Catalan below.
Keynote presentation
Animal husbandry during the Roman period in the northeastern peninsula: some examples and reflections
Lídia Colominas
Catalan Institute of Classical Archaeology

Dr. Lídia Colominas will begin by explaining the changes that occurred in livestock practices in Roman times, focusing on the factors that led to the livestock specialisation that has been documented at a general level throughout the Roman Empire. The talk will continue with a focus on the Catalan register, presenting a macro view of the data (what do the global data tell us?), followed by a focus on the villae and finishing with a presentation of several specific case studies.

Dr. Lídia Colominas is a Ramón y Cajal researcher at ICAC (RYC2019-026732-I-AEI/10.13039/ 501100011033)
---
Session 5. May 19th, 10:15 AM
Grazing the flock: Managing ovine feeding from the Roman to the Visigothic period in the Empordà plain.
Abel Gallego-Valle1, Lídia Colominas1
1Catalan Institute of Classical Archaeology
The management of animal feeding systems is a key aspect in the study of agrarian societies, particularly in relation to livestock practices throughout history. These systems are crucial for maintaining domestic herds, from which the necessary animal resources are obtained to sustain the community.
In this communication, we aim to contribute to this topic by studying the feeding systems of ovine livestock in three Roman settlements, three Late Roman sites, and one corresponding to the Visigothic period. All of these sites are located in the Empordà plain, providing a diachronic perspective on this activity over a period of significant political, economic, and social changes.
To delve deeper into this subject, we have analyzed the various patterns of dental microwear observed on the molars of the recovered ovicaprine specimens from each site. Dental microwear analysis allows us to characterize the last ingested food items of each individual, thus proposing the types of feeding employed by humans to nourish their herds during the animal's final days/weeks of life.
To better understand and interpret the archaeological microwear data, we have designed and created the first reference database for dental microwear in domestic sheep and goats through a controlled feeding experiment. Comparing the zooarchaeological data with the microwear data from this reference database, and contextualizing it with available paleoenvironmental records, has allowed us to propose the different strategies employed by the various communities that occupied this region to feed their ovine flocks from the Roman to the Visigothic period.
---
Katie Tardio (UNC-Chapel Hill) is also presenting in the conference, whose project's faunal material analyses and data collection were carried out in ICAC under Lídia Colominas' supervision. Her PhD thesis connects livestock production, distribution, and consumption to socio-economic relationships and dynamics in Republican and Imperial Tarraco. She is presenting:
Session 5. May 19th, 10:15 AM
"The Roman Villae at Els Munts and La Bruguera: a zooarchaeological look at the animal economy"
---
Abstracts in Catalan:
La ramaderia durant l'època romana al nord-est peninsular: alguns exemples i reflexions
Lídia Colominas

La Dra. Lídia Colominas començarà explicant els canvis que es van produir en la Ramaderia en època romana, incidint en aquells factors que van conduir a l'especialització ramadera documentada a nivell general a tot l'Imperi Romà. Seguidament se centrarà en el registre català, presentant una visió macro de les dades (què ens diuen les dades globals?), per seguidament focalitzar-se en les vil·les i acabar presentant diversos estudis de casos concrets.
---
Sessió 5. 19 de maig 10.15am
Pasturant el ramat. La gestió de l'alimentació ovina del mon romà al visigòtic a la plana de l'Empordà.
Abel Gallego-Valle1, Lídia Colominas1
1Institut Català d'Arqueologia Clàssica
Els sistemes de gestió alimentària dels animals domèstics és un dels aspectes clau en l'estudi de les societats agroramaderes i en concret de les pràctiques ramaderes que s'han emprat al llarg de la història. Són el mètode per mantenir els ramats domèstics, dels quals s'obtenen els recursos animals necessaris per a la sostenibilitat de la comunitat.
Amb aquesta comunicació volem contribuir a aquest tema, estudiant els sistemes d'alimentació del bestiar oví que es van dur a terme en tres assentaments romans, tres tardoromans i un darrer corresponent al període visigot, situats tots ells a la plana empordanesa, obtenint així una visió diacrònica d'aquesta activitat al llarg d'un període de canvis significatius, tan a nivell polític, econòmic com social.
Per poder aprofundir en aquest tema, hem analitzat els diversos patrons de microdesgast dentari present als molars dels ovicaprins recuperats a cada jaciment. L'anàlisi del microdesgast dentari permet caracteritzar les darreres ingestes realitzades per cada individu. Per tant, permet proposar el tipus d'alimentació utilitzat pels humans per alimentar els seus ramats durant els darrers dies/setmanes de vida de l'animal.
Per comprendre i interpretar millor les dades de microdesgast arqueològiques, hem dissenyat i creat el primer referencial de microdesgast dentari per ovelles i cabres domèstiques mitjançant un assaig alimentari controlat. La comparació de les dades arqueozoològiques amb les dades de microdesgast d'aquest referencial, i la seva contextualització amb el registre paleoambiental disponible, ha permès proposar les diferents estratègies utilitzades per les diverses comunitats que van ocupar aquesta regió per alimentar el ramat oví des d'època romana fins l'època visigoda.