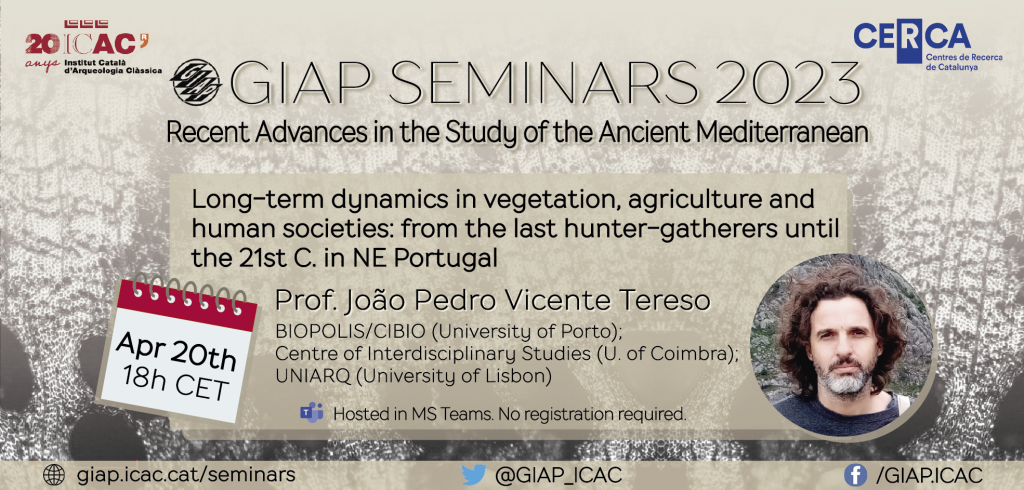 Join us in the next 2023 GIAP Seminar!
April 20th 18h
'Long-term dynamics in vegetation, agriculture and human societies: from the last hunter-gatherers until de 21st century in northeast Portugal'
Prof. João Pedro Vicente Tereso
BIOPOLIS/CIBIO (Research Center In Biodiversity and Genetic Resources/University of Porto); Centre of Interdisciplinary Studies CEIS20 (University of Coimbra); UNIARQ (Centre for Archaeology, University of Lisbon)
Access the webinar here: https://bit.ly/JoinGIAPseminars
No registration required. Hosted in Microsoft Teams (no Microsoft/Teams account needed).
Abstract:
The construction of two dams in the lower course of the river Sabor (Northeast Portugal) led to the excavation of numerous sites and an unprecedented archaeobotanical research, comprising contexts from the Mesolithic to the 19th century. The charcoal analysis and carpological studies conducted allowed the identification of major trends in vegetation history and agriculture in this long time-span, with a particular focus on Bronze Age, Iron Age and Roman Period. The apparent continuity in agriculture choices and vegetation contrast with changes in human settlements in the valley, highlighting the need for an integrated interpretation of archaeobotanical and archaeological evidences.
Keywords: Archaeobotany; Holocene; Agriculture; Vegetation history; Northwest Iberia
About Prof. Tereso:
Prof. João Tereso is an archaeobotanist with a degree in History-Archaeology, a MSc in Landscape Ecology and Nature Conservation and a PhD in Biology. He carries out investigation in several topics within vegetation history, the evolution of agricultural systems and the exploitation of plant resources by human communities. Most of his investigation focuses the relation between social trends and environmental changes with a particular emphasis on the evolution of agriculture. Currently he coordinates the Environmental Archaeology Group at BIOPOLIS/CIBIO and is an invited Auxiliary Professor at the University of Coimbra.
Links of interest:
---
---