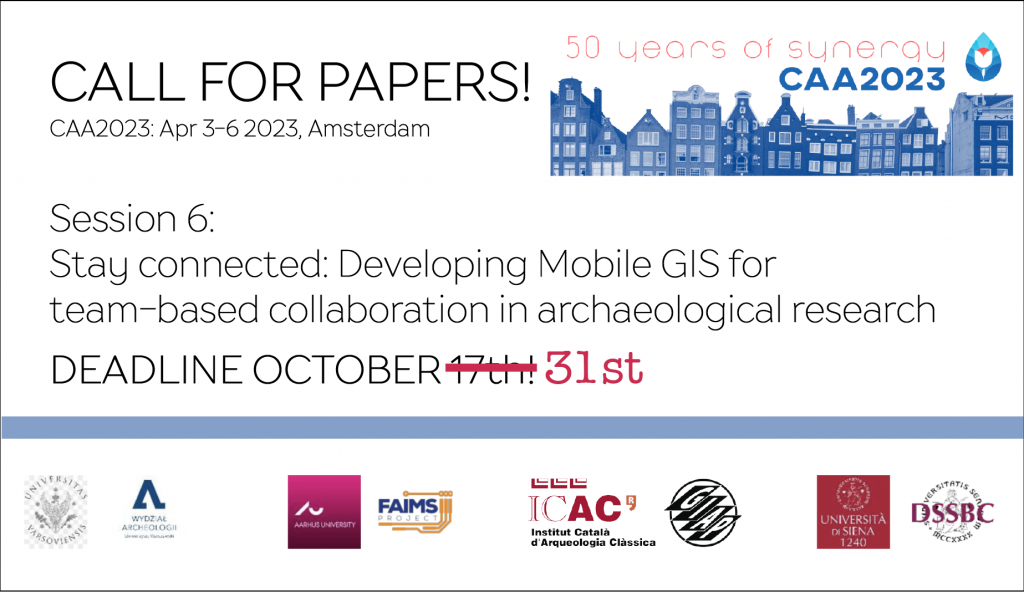 We are pleased to invite you to contribute to our session in the CAA2023 (Annual Conference of Computer Applications and Quantitative Methods in Archaeology) that will be held from April 3rd to 6th 2023 in Amsterdam (Netherlands). GIAP (ICAC) researcher Nazarij Buławka is part of the organising team of the session:
S06. Stay connected: Developing Mobile GIS for team-based collaboration in archaeological research
Session type: other (10-15 min papers + moderated discussion afterwards)

We warmly welcome all papers related to settlement patterns, landscape archaeology, field surveys, Mobile GIS and team-based collaboration applications in archaeology.

THE DEADLINE TO SUBMIT THE ABSTRACTS IS SET FOR 17TH OCTOBER 2022
Follow this link to register: https://2023.caaconference.org/submissions/call-for-papers/
Organisers: Julia M. CHYLA, Adéla SOBOTKOVA, Nazarij BUŁAWKA, Giuseppe Prospero CIRIGLIANO

Abstract
Mobile GIS Special Interest Group has in its previous CAA conference editions (2017, 2018, 2019, 2021) drawn attention to the importance of mobile GIS in archaeological and other field research, specifically its impact and contribution to fieldwork methodology and data collection (Buławka and Chyla, 2020; Sobotkova et al., 2021).
In this edition, we survey how the use of mobile GIS in archaeology has progressed in recent years. In the early phase of COVID pandemic, Scerri et al. argued that sciences working in the field, including archaeology, had to change their ways (2021). The review of the recently published literature partly confirms it. As most international expeditions were canceled, scholars working in the field had to stop their projects. Many projects abandoned field work in favor of office work, for example remote sensing and data analysis. Others, in the late phase of the pandemic, found their way to continue working by novel methods of collaboration (Geser 2021; Magnani et al. 2021; Matte and Ulm 2021).
COVID demonstrated the benefit of producing FAIR digital data in the field. Robust toolkit ensured that the collected data were born-digital, complete and consistent upon departure from fieldwork. Having all data shared and accessible by all team-members afterwards meant that work could continue remotely, which was a source of relief during the lockdown (Sobotkova et al., 2021).
Additionally, we would like to explore the current differences in collaborative solutions between open-source and commercial software. Do the different OS and commercial software entail a different organization of archaeological fieldwork? What aspects and reasons lead a research team to choose an OS versus a commercial software? What is the range of funding models used to develop or deploy different mobile data capture applications? How should archaeologists prepare for OS updates, changes in hardware compatibility or application funding models so as to retain the ability to use the same workflow in the future?
Another aspect that we would like to address at CAA 2023 is the capability to produce standardized results that follow good practice using mobile GIS nowadays. Some archaeologists report increased fieldwork efficiency thanks to the use of mobile devices (Austin 2014; Ames et al. 2020) while others focus on the downsides of the digital medium, such as deskilling, (Caraher 2016; Gordon et al. 2016), or stress the need to manage workplace change and fine-tune daily operation under the new circumstances (Vanvalkenburgh 2018). What makes the difference? Have the mobile devices transformed the entire lifecycle of archaeological research from team-based field data capture to analysis, sharing, and publishing, or affected only the day-to-day working processes in the field? And more specifically: is mobile GIS essential for digital fieldwork? If so, what are the must-have features of mobile GIS and how do you prioritize them?
The session invites papers that may concern methodological and technical aspects and will be finished with a moderated discussion.

References
− Ames, Christopher J. H., Matthew Shaw, Corey A. O'Driscoll, and Alex Mackay. 2020. "A Multi-User Mobile GIS Solution for Documenting Large Surface Scatters: An Example from the Doring River, South Africa." Journal of Field Archaeology 45 (6): 394–412. https://doi.org/10.1080/00934690.2020.1753321.
− Austin, Anne 2014. 'Mobilizing Archaeologists: Increasing the Quantity and Quality of Data Collected in the Field with Mobile Technology', Advances in Archaeological Practice, 1, 12- 23.
− Buławka, Nazarij, and Julia Maria Chyla. 2020. "Mobile GIS – Current Possibilities, Future Needs. Position Paper." In Digital Archaeologies, Material Worlds (Past and Present). Proceedings of the 45th Annual Conference on Computer Applications and Quantitative Methods in Archaeology, edited by Jeffrey B. Glover, Jessica Moss, and Dominique Rissolo, 99–113. Tübingen: Tübingen University Press. https://doi.org/10.15496/publikation-43226.
− Scerri, Eleanor M. L., Denise Kühnert, James Blinkhorn, Huw S. Groucutt, Patrick Roberts, Kathleen Nicoll, Andrea Zerboni, et al. 2020. "Field-Based Sciences Must Transform in Response to COVID-19." Nature Ecology & Evolution 4 (12): 1571–74. https://doi.org/10.1038/s41559-020-01317-8.
− Caraher, William. 2016. "Slow Archaeology: Technology, Efficiency, and Archaeological Work." In Mobilizing the Past for a Digital Future; the Potential of Digital Archaeology, edited by Erin Walcek Averett, Jody Michael Gordon, and Derek B. Counts, 421–42. The Digital Press @ University of North Dakota. http://dc.uwm.edu/arthist_mobilizingthepast/18.
− Geser, Guntram. 2021 "Impact of COVID-19 on Archaeology and Cultural Heritage." Salzburg. https://ariadne-infrastructure.eu/wp-content/uploads/2021/11/COVID-19_impact- archaeology-and-cultural-heritage_29Oct2021.pdf.
− Gordon, Jody Michael, Erin Walcek Averett, and Derek B. Counts. 2016. "Mobile Computing in Archaeology: Exploring and Interpreting Current Practices." In Mobilizing the Past for a Digital Future; the Potential of Digital Archaeology, edited by Erin Walcek Averett, Jody Michael Gordon, and Derek B. Counts, 1–32. The Digital Press @ University of North Dakota. http://dc.uwm.edu/arthist_mobilizingthepast/2.
− Magnani, Matthew, Natalia Magnani, Anatolijs Venovcevs, and Stein Farstadvoll. 2022. "A Contemporary Archaeology of Pandemic." Journal of Social Archaeology 22 (1): 48–81. https://doi.org/10.1177/14696053211043430.
− Mate, Geraldine, and Sean Ulm. 2021. "Working in Archaeology in a Changing World: Australian Archaeology at the Beginning of the COVID-19 Pandemic." Australian Archaeology 87 (3): 229–50. https://doi.org/10.1080/03122417.2021.1986651.
− Sobotkova, Adela, Shawn A. Ross, Petra Hermankova, Susan Lupack, Christian Nassif-Haynes, Brian Ballsun-Stanton, and Panagiota Kasimi. 2021. "Deploying an Offline, Multi-User, Mobile System for Digital Recording in the Perachora Peninsula, Greece." Journal of Field Archaeology 46 (8): 571–94. https://doi.org/10.1080/00934690.2021.1969837.
− VanValkenburgh, Parker, Luiza O. G. Silva, Chiara Repetti-Ludlow, Jake Gardner, Jackson Crook, and Brian Ballsun-Stanton. 2018. "Mobilization as Mediation." Advances in Archaeological Practice. https://doi.org/10.1017/aap.2018.12.
---

Funded by the European Union (Under The Sands; MSCA-IF-101062705). Views and opinions expressed are however those of the author(s) only and do not necessarily reflect those of the European Union. Neither the European Union nor the granting authority can be held responsible for them.