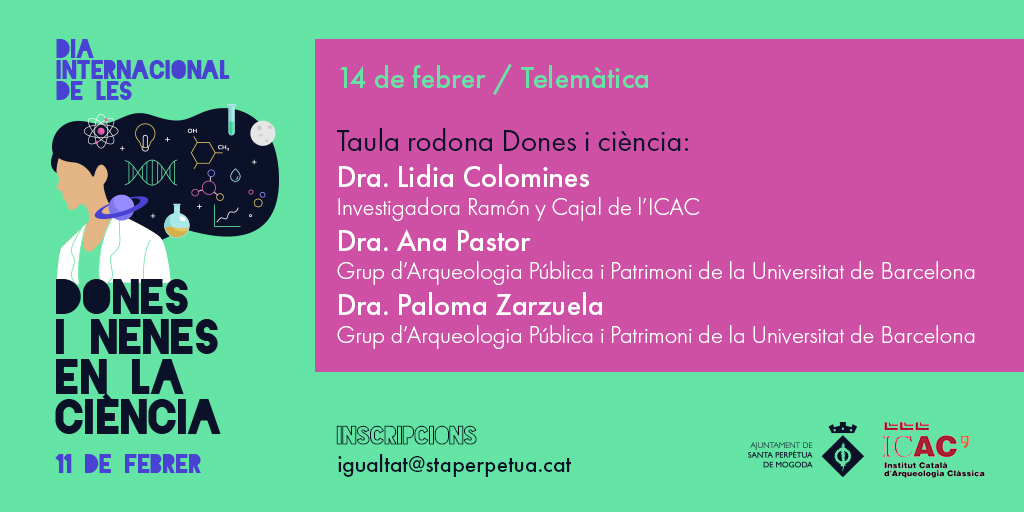 The ICAC joined, for a fourth year in a row, the commemoration of the International Day of Women and Girls in Science (February 11th).
On the occasion, the City Council of Santa Perpètua de Mogoda (Barcelona) and the ICAC Committee for Gender Equality have been organizing different dissemination actions, from 8 to 14 February 2022.
11F celebration aims to foster full access and participation in science for girls and women. This is the first year that the ICAC carries out a joint initiative with the City Council of Santa Perpètua de Mogoda, with whom it has designed a wider transfer project in the field of education ("Our scientific neighbours: do you know them?" ), by GIAP-ICAC researcher Marta Flórez.

The commemorative program for February 11th closes on Monday 14th with a forum debate (from 6.30 pm to 7.30 pm), addressing the topic of how to make more visible the female researchers working in disciplines sometimes considered "unscientific", such as Humanities. With GIAP-ICAC researcher Dr. Lídia Colominas (ICAC), Dr. Ana Pastor (GAPP-UB) and doctoral student Paloma Zarzuela (GAPP-UB). The debate will be moderated by Óscar Esteban (City Council Santa Perpètua de Mogoda) and Dr. Marta Flórez (ICAC).
Learn more about ICAC's activities in the context of the 11F: https://icac.cat/en/actualitat/noticies/2022/icac-joins-celebration-of-11f-international-day-of-women-and-girls-in-science/