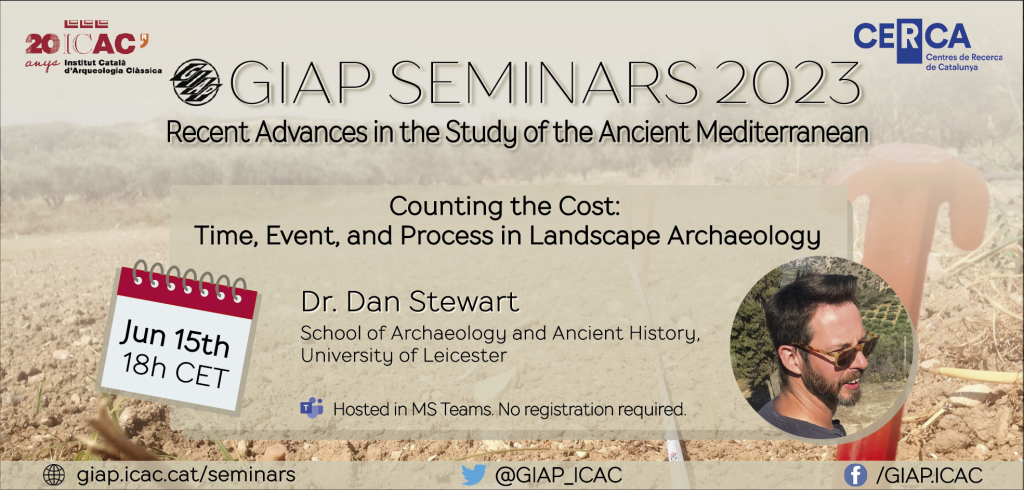 Join us in the last GIAP Seminar of 2023!
Jun 15th 18h CET
'Counting the Cost: Time, Event, and Process in Landscape Archaeology'
Dr. Dan Stewart
School of Archaeology and Ancient History, University of Leicester
---
Access the webinar here: https://bit.ly/JoinGIAPseminars
No registration required. Hosted in Microsoft Teams (no Microsoft/Teams account needed).
---
Abstract:
This paper wants to interrogate the idea of the archaeological 'event' in relation to Landscape Archaeology, especially in relation to Classical Archaeology. In history, the event serves as a node in the construction of a scalar and linear view of time, a point for a discussion of the before and after. In archaeology, 'event' has become elided with process and structure (Lucas 2008), as short- to medium-term recurrences of similar activities. In archaeology, 'event' as a particular, singular occurrence has fallen by the way-side, and many now use Sewell's (2005: 227) definition of the event as "sequences of occurrences that result in transformation of structures".
Within landscape archaeology in particular, it's easy to see that the data lends itself to the view of event as process or sequence. Pedestrian field survey identifies and records aggregate artefactual data, a smear on the landscape created by repetition through time (Stewart 2013). Geophysical data is the result of different sequences and processes that exist beyond the particular – no matter the method, it doesn't measure points in time but relationships between contrasting materials that are the result of decades and centuries of varying but repeating processes, both cultural and natural. Despite this, our visualisations of that data are rooted in the historical notion of event: a Roman phase, a Hellenistic destruction, a Classical sherd; the particular and not the process often take precedence in the presentation of interpretation.
Keywords: Knossos, field survey, legacy data, Greece, landscape archaeology, geophysics
About Dr. Dan Stewart:
Dr. Dan Stewart is Lecturer in Ancient History in the School of Archaeology and Ancient History at the University of Leicester. He has published on the history and archaeology of the Hellenistic and Roman Peloponnese, and has contributed to or co-directed archaeological projects in Arcadia, Sikyonia, and Crete. He is currently co-directing a landscape archaeology project on Roman Knossos, Crete.
Links of interest:
About Dr. Stewart:
School of Archaeology and Ancient History, University of Leicester:
Leaflet's background picture: Survey tape at Knossos, 2016. Courtesy of Dr. Stewart.
---
---