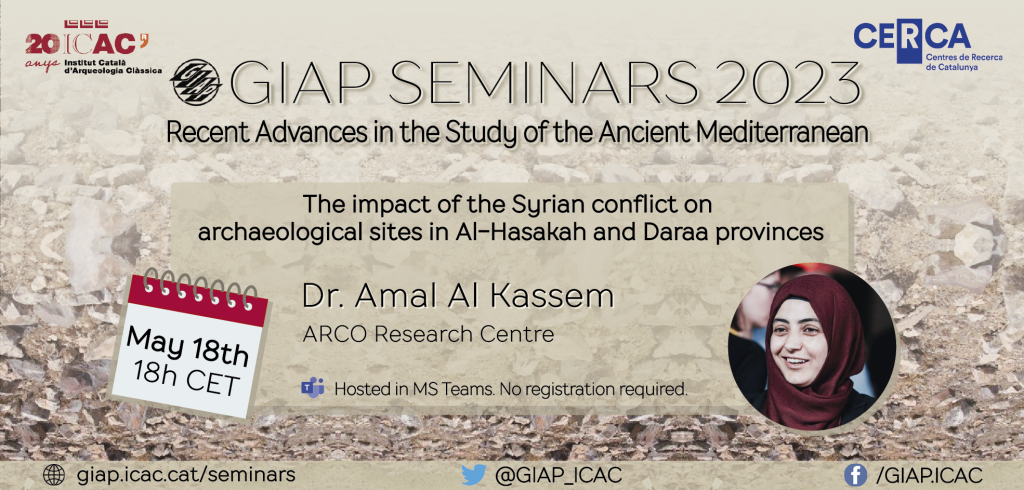 Join us in the second-to-last GIAP Seminar of 2023!
May 18th, 18h CET
'The impact of the Syrian conflict on archaeological sites in Al-Hasakah and Daraa provinces'
Amal Al Kassem
ARCO Research Center
Keywords: Remote Sensing imagery, Field visit, damaged archaeological sites, conflict, Syria
Access the webinar here: https://bit.ly/JoinGIAPseminars
No registration required. Hosted in Microsoft Teams (no Microsoft/Teams account needed).
Abstract:
The heritage is the hidden victim of Syria's Conflict. This presentation displays the impact of the Syrian conflict on archaeological sites. In total, the condition of 20 damaged archaeological sites were documented in Daraa provinces through field visits supported by the Directorate General of Antiquities and Museums in 2015, and a detailed analysis of satellite images of 340 archaeological sites in Al-Hasakah province were examined on satellite images taken between 2004 and 2020. While field visits present a more accurate assessment and distribution of damages, Satellite images present a more comprehensive assessment of the timing of damage specific and damage types that have increased in frequency during the conflict.
About Amal Al Kaseem:
Amal Al Kassem is an archaeologist and flintknapper specialised in the lithic industries of the Levant. She completed her PhD in lithic technology of the Middle Palaeolithic at the University of Cologne (Germany), and she is interested in reconstructing the behaviour, mobility, and land use of hunter-gatherers through stone artefact technologies. Her current interests lie in the preservation and documentation of Syrian heritage and archaeological sites through field visits and Remote Sensing imagery.
Links of interest
---
---