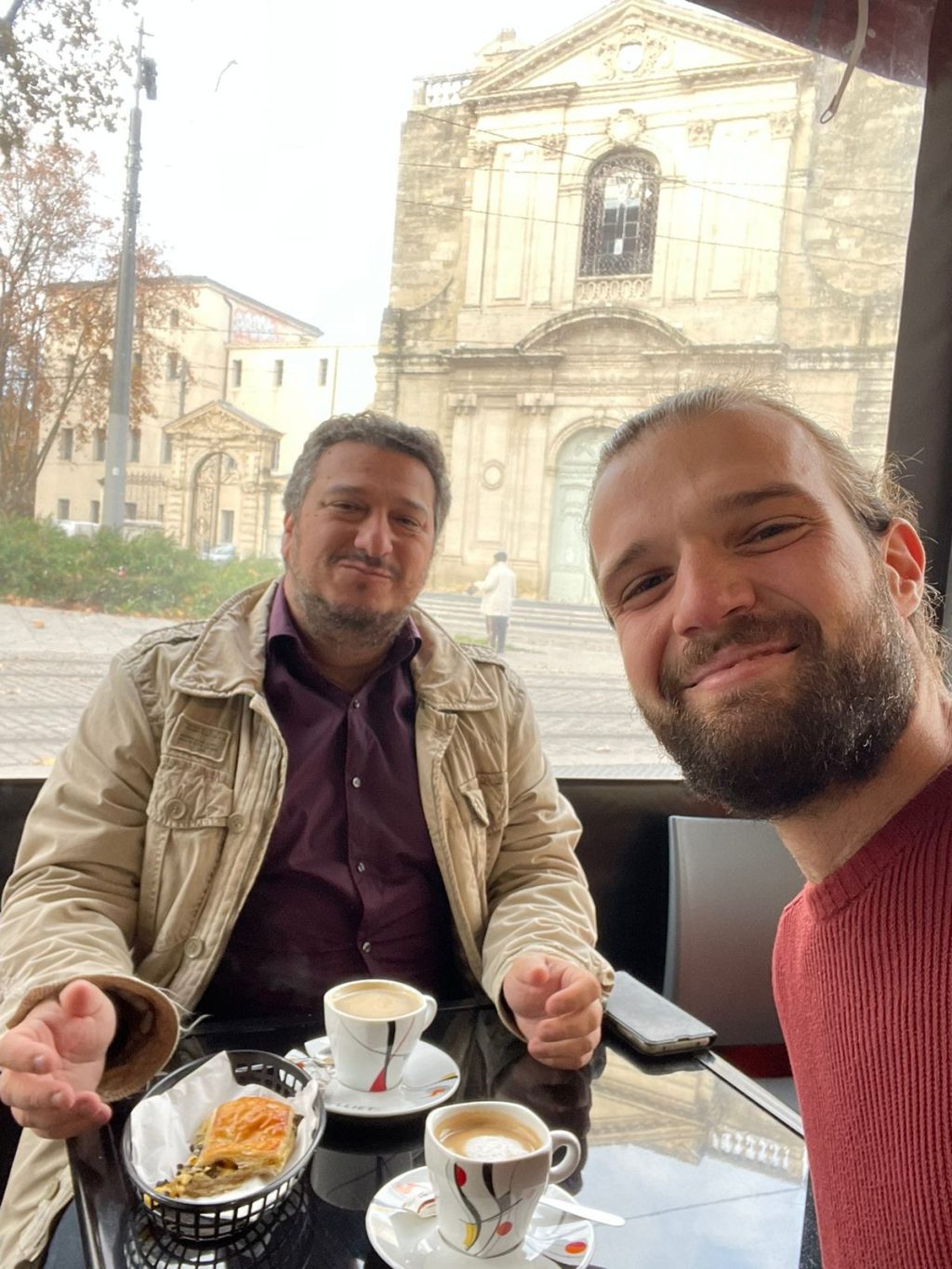 In the picture: M. Georgiadis and G. Apostolou getting ready for the talks.
GIAP researchers Merkourios Georgiadis and Giannis Apostolou present our latest research in Greece, including results from this summer's campaigns, at the 41st IMSW meeting. As presented by the organisers:
"The 41st hybrid IMSW meeting will take place at the Paul Valéry University – Montpellier (France) on Thursday 2 and Friday 3 December 2021 and is hosted by the Department of Archaeology research unit 5140 "Archéologie des Sociétés Méditerranéennes". The host is Dr Maxime Scrinzi, associate researcher at the unit and work director at Mosaïques Archéologie company.
The semi-annual International Mediterranean Survey Workshop have, since 2001, brought together an increasing circle of field survey practitioners and students from Europe (and occasionally, elsewhere) for presentation of (preliminary) results and free- ranging discussion of issues of interest. Having started out in the Low Countries, the workshops have since been held alternately in many countries of Mediterranean Europe – Spain, Italy, Turkey, and Croatia – as well as in Austria and Germany."
---
11h – 11h30 : Session 1
From Abdera to inland Thrace via River Nestos and smaller rivers
By Merkourios Georgiadis (Catalan Institute of Classical Archaeology), Constantina Kallintzi (Ephorate of Antiquities of Xanthi), Eurydice Kefalidou (National and Kapodistrian University of Athens)
The APAX archaeological project has conducted intensive surveys in different parts of the Xanthi Prefecture in Aegean Thrace. It has analysed the coastal Greek colony of Abdera from the mid-7th century BC until the Late Roman period as well as parts of inland Thrace. In this region there has been a broad and relatively deep coastal plain with smaller rivers connecting in a way the coastal with the more inland part. Moreover, the larger River Nestos connected the coastal area with the mountainous hinterland and its upland regions. Some preliminary hypotheses about the relationship between rivers and the ancient coastline have been formed. The coast and the rivers appear to be both barriers and routes that allowed or restricted exchanges and trade to be conducted between different cultural groups that coexisted in Aegean Thrace throughout antiquity.
---
11h30 – 12h : Session 1
Testing a multi-level extensive survey in a semi-mountainous landscape: the case of Grevena, NW Greece
By Giannis Apostolou (Catalan Institute of Classical Archaeology), Mercourios Georgiadis (Catalan Institute of Classical Archaeology), Arnau Garcia-Molsosa (Catalan Institute of Classical Archaeology), Hector Orengo (Catalan Institute of Classical Archaeology) , Sofia Dimaki (Ephorate of Antiquities of Grevena, Greek Ministry of Culture and Sports), and Konstantina Venieri (Catalan Institute of Classical Archaeology)
This paper presents the overview of an extensive survey methodology applied to the Grevena region in Greece. During August-October 2021 the first season of a new survey programme took place, which seeks to combine historical archives, oral testimonies and old archaeological records with the latest remote sensing applications and a multi-layer, ground-truthing workflow. Geoarchaeological analysis of the landscape also figures prominently for understanding human occupation trends and shifts during different periods of the past in Grevena. All such collected information is built into a single GIS database, which will subsequently create an up-to-date, multi-layer archaeological map of the area.