Recent advances in the study of the ancient Mediterranean
GIAP's research webinar series
GIAP Research Seminar Series are managed by GIAP's predoctoral researchers. They are a reflection of their current research interests and aim to provide examples of leading research that open up new horizons in landscape, computational and palaeoenvironmental archaeology, and bioarchaeology.
The seminars are oriented to povide glimpses of original current or ongoing research across the world presented by prominent researchers directly involved in their development, independtly of their career stage or academic position.
GIAP's Seminars, currently in the form of webinars, are taking place roughly every three weeks and are open to the public (for details on how to register see below).
Forthcoming webinars:
24/02/21, 18:00 CET
Dr Veronica Aniceti
Postdoctoral researcher in zooarchaeology, University of Rome Torvergata, Italy
Animals and their roles in the medieval society of Sicily: from Byzantines to Arabs and from Arabs to Norman/Swabians (7th-12th/13th c. AD)
This presentation aims to highlight how zooarchaeology can contribute to our understanding of the medieval history of Sicily and how this can also help in gaining a better insight into the broader mechanisms of cultural exchange, transmission and replacement, as well as the co-existence of different ethnic identities. In particular, a number of faunal samples recovered from different site-types and dated to the medieval period in Sicily are analysed and compared. Zooarchaeological results reveal significant changes in the use of the main domesticates in the Byzantine-Arab and in the Arab-Norman/Swabian transitional periods. In the Arab period, the socio-cultural effects of the Islamisation of the island are attested by an overall dearth of pigs at most urban sites. By contrast, similarly to the Byzantine period, pigs continue to be represented at contemporary rural settlements, thus suggesting a higher resilience of rural communities toward the newly imposed socio-cultural and religious rules. Sheep become larger in Arab times; this was likely driven by an interest to maximise outputs from caprine husbandry, and can be seen as part of the 'Arab Green Revolution'. During the Norman/Swabian rule, changes in dietary practices in comparison with the previous period are noticed. Although caprines maintain an important economic role, pigs are again present at urban and military sites; this might be an indicator of an ongoing 'de-Islamisation' of the island. At the same time, a further improvement of sheep size indicates a continuity in the Norman/Swabian period of animal husbandry strategies initiated by the Arabs.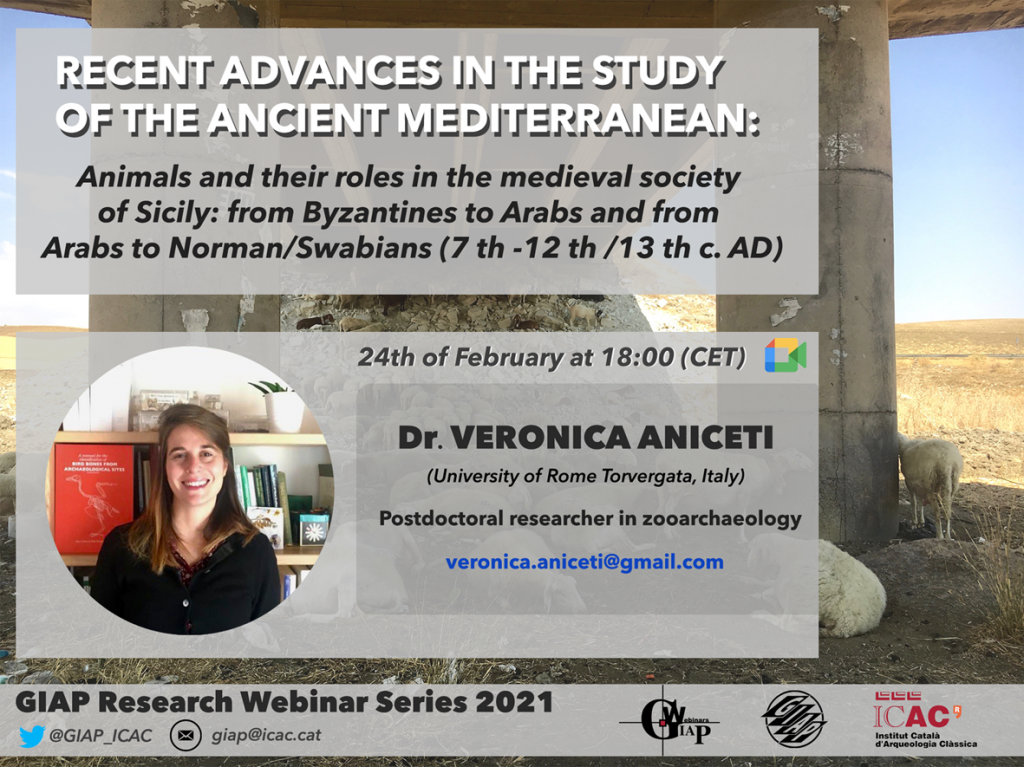 —oooOOOooo—
17/03/21, 18:00 CET
Dr Jane Rempel
Department of Arhcaeology, University of Sheffield
A view to the sea: Monumental burial traditions in the southern Black Sea region during the late Classical and early Helenistic period.
—oooOOOooo—
08/04/21, 18:00 CET
Dr Natalia Égüez
Universidad de la Laguna
Geo-archaeology as a tool to study past pastoralism: micromorphology and isotope biochemistry in sediments and animal dung
—oooOOOooo—
28/04/21, 18:00 CET
Dr Rena Veropoulidou
The American School of Classical Studies at Athens (ASCSA)
Cuisine and crafts in Bronze Age Crete: the contribution of archaeomalacology
—oooOOOooo—
19/05/21, 18:00 CET
Dr Nancy Krahtopoulou
Ephorate of Antiquities of Karditsa, Hellenic Ministry of Culture & Sports
The many wonders of the Kambos: Revisiting the cultural landscapes of western Thessaly, central Greece
—oooOOOooo—
09/06/21, 18:00 CET
Dr Crystal El Safadi
University of Southampton
Maritime space and mobility: from the Mediterranean to the European seaways
—oooOOOooo—